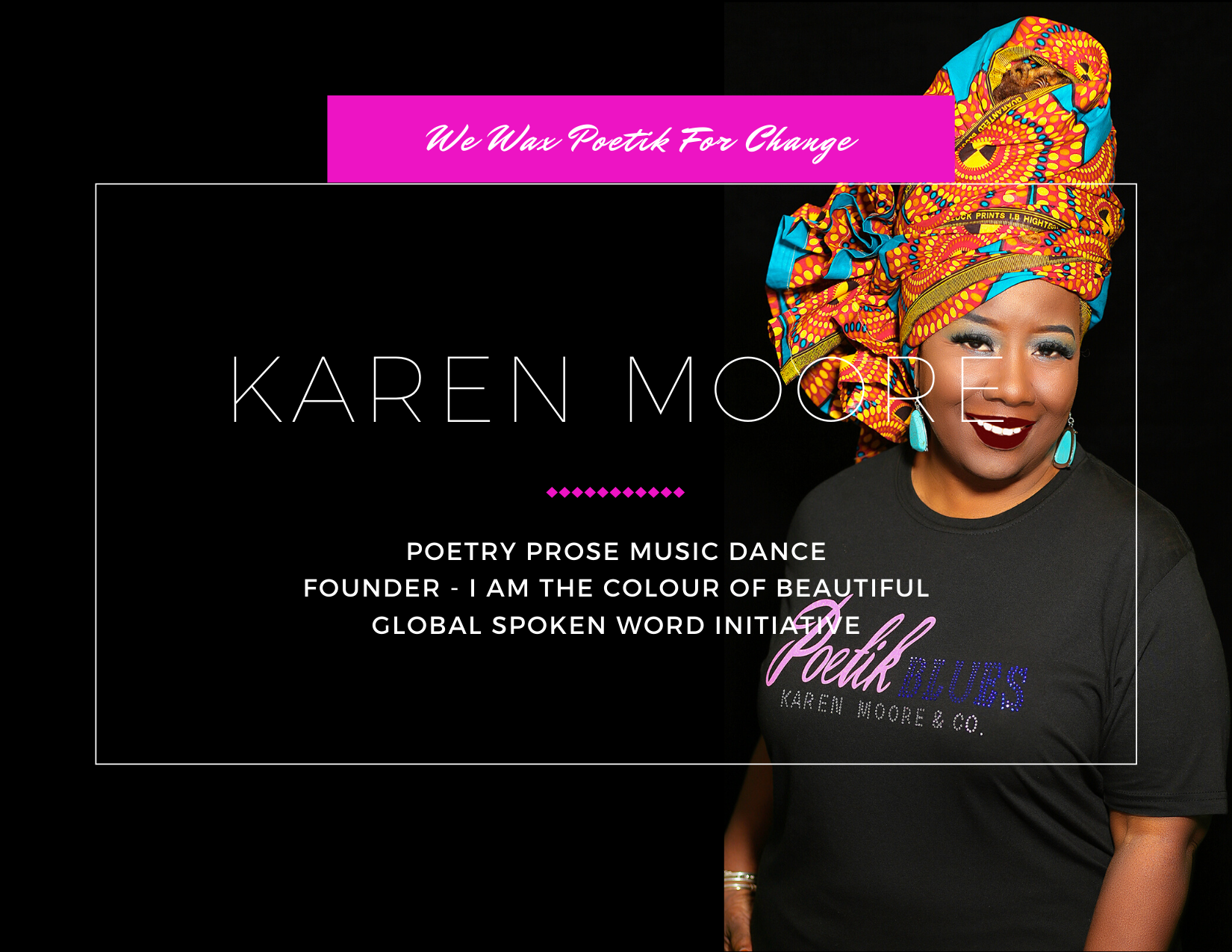 Poet, Performer, Producer, Speaker, Songwriter and Women's Empowerment Coach. She is known as the Go to Girl on black women's empowerment. Whether on stage, in her books, or conducting a workshop she educates audiences through her special brand of communication with poetry, prose, music and dance. Her voice has been described by the Philadelphia Inquirer as "soft cello that oozes honey"! She is passionate about eradicating colorism in communities of color on a global level and also empowering women of color beyond the blues from broken and bitter to healed and happy.
Always intrigued by words and language, Karen embarked on a journey using poetry, prose, music and dance to stimulate conversation. She creates a unique and unforgettable experience for her students and audiences. Her productions are theatrical therapy; unapologetic, uninhibited and undeniably honest!
Karen is the founder of Urban Poetik Ministries, Inc (UPM) a nonprofit organization whose mission is
to bring urban poetic works that include the mediums of music and dance to the theatrical stage in service to our performers and our audiences.  UPM ministers to women of color to foster an environment of effective communication while enhancing and empowering lives and relationships. Under the leadership of Ambassador Dr. Clyde Rivers Karen has developed a spoken word initiative I AM THE COLOUR OF BEAUTIFUL™! a global action focusing on deliverance from the stigma of colorism in communities of color across the globe.
Karen has been awarded the Women Add Value Recognition Award by Ambassador Dr. Clyde Rivers and I Change Nations Governing Body and the Human Rights Global Commission. She has also received the Sharing My Voice Award from Black Belt Speakers and was awarded an Honorary Doctorate in Arts & Worship from Kayiwa International University in Uganda.